As we reflect on the events of May, we are reminded of the progress we have made, particularly in our efforts to support unaccompanied minors. Our recent Rolling Aid event held in Baarn was a step towards fostering connections between these young individuals and the local community, cultivating unity and a sense of belonging. Together, we will persist in our mission to bring about positive change and instill hope in those who need it most.
Here's a summary of our initiatives:
Rolling Aid event in Baarn
Donations to unaccompanied minors in Harderwijk
Get inspired: From banking to rebuilding
Team dinner gathering
Looking ahead
---
Rolling Aid event in Baarn
On May 13th, the People for People Foundation and Rotaryclub Soestdijk organized a Rolling Aid Event in Baarn, aiming to integrate unaccompanied minors into the local community. Bringing together 72 boys, the event provided them with a joyful day, breaking away from their daily routines. 🤝
The boys bonded and shared their aspirations for a better future. During the event, our founders joined before lunch, witnessing the impact of their work and personally serving food to the boys. Through workshops, sports activities, and a creative session, the boys had an unforgettable experience. ⚽🎨
The event concluded with the distribution of sports clothing and a heartwarming final dance that symbolized unity and joy. It aimed to make the boys feel valued and embraced, and one boy shared that he found a renewed sense of purpose through this event. 💪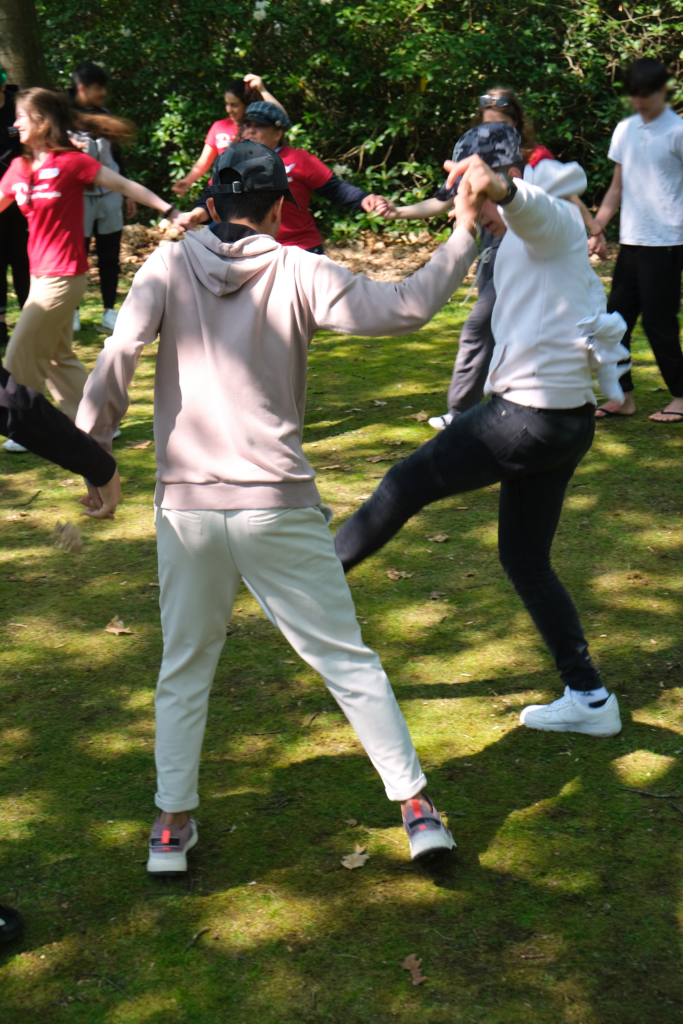 The impact of our actions extended far beyond the event itself. Rotary made a commitment to organize further initiatives for the boys, ensuring they could continue playing basketball at a local club. Moreover, plans were set in motion to reintroduce the Bootcamp instructor for future sessions. Additionally, as a result of the connections we made, more foundations, sport clubs, and businesses are actively exploring the possibility of helping on a structural level, providing even more opportunities for the boys to thrive. They are actively exploring the possibility of arranging cultural events at this location, which will further enhance the boys' chances of flourishing.
Collaboration and unity are key in creating an inclusive environment that positively transforms the lives of asylum seekers. We express our sincere gratitude to Rotary Club Soestdijk for their unwavering support and encourage continued efforts to uplift those in need, fostering a sense of belonging and instilling hope. 🙏

---
Donations to unaccompanied minors in Harderwijk
Our team member, Tom, and our committed volunteer, Corinne, immediately sprang into action to provide basic necessities to 53 unaccompanied minors in Harderwijk. We received an urgent call notifying us that 15 new boys and girls had arrived at the location without essentials such as underwear, socks, and other basic items, including hygiene products. Without any delay, they swiftly packed the necessary items for all 53 residents and promptly delivered them, bringing great happiness to the boys and girls.
---
Get inspired, From banking to rebuilding

We had an inspiring interview with Soner Tanış, a bank manager whose life took a dramatic turn after the devastating earthquake in Turkey. With supermarkets and essential outlets closed, Soner felt a responsibility to help not only his own family but also his staff and the wider community. 🇹🇷
He found himself collaborating with aid workers and organizations like People for People, who provided crucial supplies. Soner's experience has transformed his outlook on life, emphasizing the importance of helping others and finding purpose beyond material possessions. He continues to work with various aid organizations, making a lasting impact on the lives of those affected by the earthquake. For the full interview, click here.✨
---
Team dinner gathering
On Wednesday, May 17th, our team and volunteers joined together to bid a heartfelt farewell to one of our esteemed member, Paris.
Paris, who is leaving to embark on a journey back to her home country, has been an invaluable asset to our rolling aid events, consistently demonstrating unwavering dedication, commitment, and passion. She started as a volunteer for People for People and eventually became an integral part of our team, contributing her time, energy, and expertise. 🌟
To honor this special occasion, we organized a delightful dinner that served as a moment to pause and express our appriciation to all the volunteers who have dedicated their time and effort to help. This significant moment was intended not only for Paris but also as an opportunity for us to extend our thanks and appreciation to these incredible individuals.
Together, we cooked a delicious meal, shared laughter, and created unforgettable moments, strengthening the bonds within our team. 💕
Paris's departure reminds us of the bittersweet nature of our work. While we are sad to see her go, we are immensely proud of the growth she has undergone as an individual. We wish Paris the very best on her journey back to her home country, hoping that she finds fulfilment and success in all her future endeavors. 🌍👋
---
Looking forward
It is important to acknowledge that Rolling Aid events go beyond providing practical support. They are about building relationships, fostering understanding, and demonstrating compassion. Unaccompanied minors often face tremendous hardships, and by offering them opportunities to connect with others and enjoy meaningful activities, we can significantly improve their daily lives and break the routines they have. ❤️
If you are interested in joining us on this rewarding journey of supporting asylum seekers in the Netherlands, we invite you to explore our website. There, you will find information on how you can contribute and become an integral part of the vibrant and supportive community we aim to create together.🙏
Let's make a difference and bring hope to those in need. Join us today! 💪