As the month of July has come to an end, we reflect on our activities of the past month.
Here's a summary of our initiatives:
Rolling Aid Event at Oosterhout
Rolling Aid Event planning at Arnhem
Packing and drop off for Petten and Amsterdam Noord
Looking forward and exciting new announcements
---
Rolling Aid event at Oosterhout
Once again, the spirit of compassion brought us all together at the Oosterhout Rolling Aid Event, held on a beautiful and sunny Tuesday 18th. It was a day filled with hope, laughter, and genuine connections, as our team of volunteers joined with the unaccompanied minors from the emergency reception centers in Oosterhout and Breda. As the sun illuminated FloraliaPark, a perfect setting for inclusive gatherings, we knew that today would be a wonderful day for everyone.
Before the event, our dedicated volunteers came to the office several times to help pack the gift boxes for the Rolling Aid Event. Their commitment and enthusiasm set the tone for what would become an unforgettable day.
One of our volunteers, Mehdi, currently going through the asylum seeker procedure himself, shared his heartfelt sentiments, saying, "Being part of People for People and helping others in the same situation is incredibly fulfilling. When I'm at the location, I used to have nothing to do, but now, knowing that I can make a positive impact and assist people really brings me joy."

People for People team transfering filled bags to the van.

Thanks to the generous donations from our partners and the hard work of our volunteers, we were able to pack more than 250 items, including school bags, water bottles, school supplies and more, for the boys from the Breda and Oosterhout locations.
As we arrived at Floralia Park, the warm welcome from the park staff, with coffee in hand, made us feel right at home. Being just a 2-minute walk away, it proved to be an ideal location for inclusive and intercultural events and with the support of Astrid from the COA and Kitty from the municipality, we collaborated to organize the day and inspire the boys to use the park facilities. 🏞️


The diversity among our group of volunteers was truly inspiring. Psychologists, coaches, entrepreneurs, and individuals who had walked in the boys' shoes in the past all came together with one common goal: to help others, connect, and have a fantastic day together.
The bonding sessions held great significance for the Rolling Aid event. Creating a safe space for the boys to open up and be vulnerable was a priority. It was essential for the boys to feel comfortable expressing their feelings, hopes, and desires for the future. During these sessions, we went the extra mile to actively listen to their stories and get to know them better, ensuring a smoother and more fulfilling experience for the rest of the day. 💓
To build an even deeper connection, we had translators from Syria, Eritrea, Iran, and other countries present. In one touching moment with an Eritrean group, the boys couldn't stop asking questions. They were incredibly grateful to have someone connect with them in their own language. Despite being in the Netherlands for only two months, the translator's efforts to listen and answer their questions about life and their current situations were deeply appreciated. It was a heartwarming experience for everyone involved. 🗣️
After enjoying a warm meal from the Hart van Syrië and Abyssinia restaurant, we headed towards the stage for a dance workshop led by Aniek from Eigenwijzer Dans Akademie, situated in Arnhem. Everyone, including the People for People team, stepped out of their comfort zones. Together with the boys, we moved, shook, laughed, and were filled with energy afterward. Witnessing everyone dancing and having fun together, solely focused on learning the dance steps, was truly special.
Throughout the Rolling Aid Event, we were pleasantly surprised by special moments. One such moment was when the Korfball club, with two trainers present, introduced a sport that the boys had never played or heard of before. Despite their initial unfamiliarity with the game, it turned out to be a huge success. By the end of the day, the boys declared it the highlight of their experience. The enthusiasm with which they played the sport, alongside People for People volunteers, COA employees, and Korfball trainers, was infectious, and everyone embraced the excitement and exertion. 🏀🌟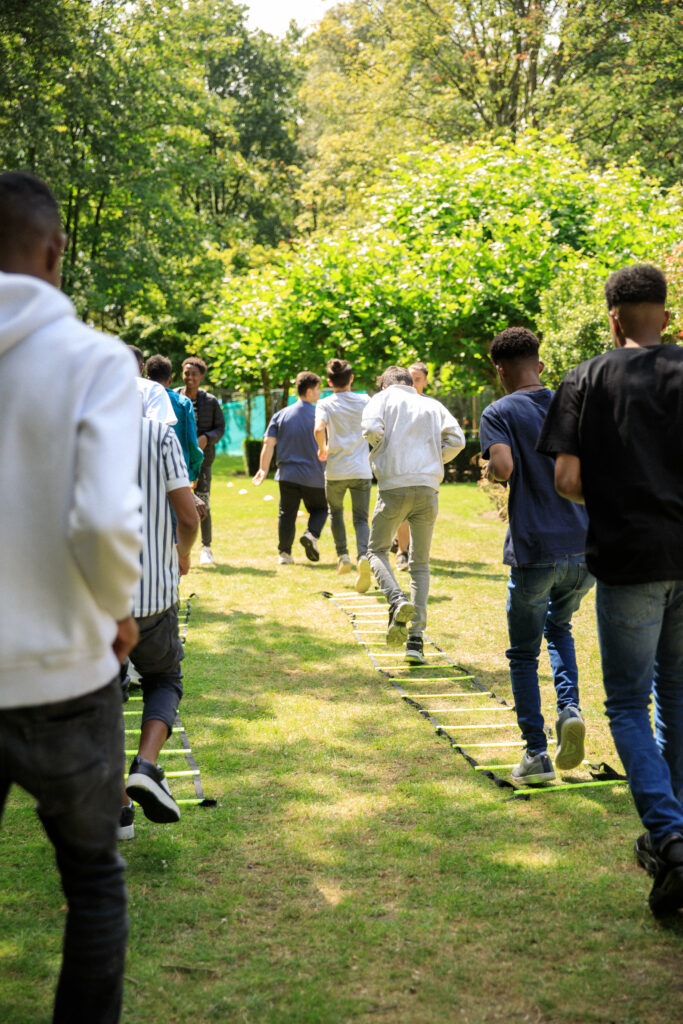 Moreover, for those boys who needed a break from sports, the creative workshop led by Paul was a perfect choice. It offered them a more relaxing afternoon and provided an opportunity to release their creativity through sculpting. Collaborating on building bamboo sculptures and other imaginative creations, we witnessed the joy in their eyes as they eagerly worked together. 🎨🛶
As we reflect on the Oosterhout Rolling Aid Event, we are filled with gratitude for the love and support shown by everyone who participated. 💪 We would like to thank our partnership with local clubs like korfball club De Voltreffers, VvTSC, and VVO Oosterhout football club, and H19. With their contributions and time, we were able to create a memorable day for everyone involved. And we are happy to share that sports clubs have committed to staying engaged with the boys on a weekly basis.

Together, we made a positive impact on the lives of these young boys, creating cherished memories and fostering a sense of belonging and inclusion. 💓
If you would like to read more about the Rolling Aid event, you can check the publication on AD.nl and Oosterhout Nieuws
---
Rolling Aid event planning at Arnhem
We are excited to announce the upcoming Rolling Aid event in Arnhem on August 9th! 🎉 It's going to be an incredible day filled with support and connection as we team up with the municipality and local sports clubs to make a positive impact on the lives of 72 unaccompanied minors. 🌟 With the help of our volunteers, we have prepared bags filled with basic needs for the boys to give them at the end of the day. 🎒
If you want to be a part of our amazing team of volunteers for the Rolling Aid events, make sure to sign up here. Together, we can create a meaningful difference! 👐
---
Packing and drop off for Petten and Amsterdam Noord
On Thursday 27th, we were busy packing supplies for several emergency centers in the Netherlands.
Our volunteers came to the office to help us pack 80 school bags filled with essential supplies for children and families who had arrived at Petten, a crisis emergency location. With many young children at this site, we acted quickly to address their urgent needs for basic items, such as underwear, shoes, socks, body wash, and deodorant. 🌟
Additionally, our volunteers supported us in packing 125 bags for a newly opened reception center in Amsterdam. We received a call earlier in the week about a new group of unaccompanied minors who had just arrived at Ter Apel and were directly transferred to this new location, which opened this week. They only had the clothes they were wearing, and we recognized the urgent need for essential items. As a result, the volunteer team quickly adapted and began packing all the necessities.
In the late afternoon, we packed up the big red van and hit the road, deciding to deliver the items directly to the locations, providing all of the essential items to both the Amsterdam and Petten locations! 🚚
We cannot thank our volunteers enough for their hard work, dedication, and quick response in supporting asylum seekers. Their commitment to acting and adapting quickly is truly commendable. 🙏
---
Dam tot Damloop
On September 17th, People for People will participate in the 16-Kilometer Dam tot Damloop to support asylum seekers in the Netherlands! Join People for People, lace up your running shoes, and gather your team for a fun and meaningful challenge outside the office. Each team member will receive a red People for People t-shirt to wear during the race, symbolizing unity and our commitment to making a visible impact. 🏃‍♀️🏃‍♂️
We're excited to have Messagebird as our partner organization, running alongside us to raise funds for asylum seekers. Marleen from Messagebird shares our belief in the direct, immediate impact of People for People. Together, we can make a difference and support those who need it most. 🌟

We welcome all companies to participate in this event and contribute to the cause. Join us on September 17th and be part of the positive change. For more information, please reach out to info@peopleforpeople.com. Let's run together for a better tomorrow! 💪
---
Looking forward and exciting new announcements
Looking back on July, it was a month filled with exciting progress for People for People. We were determined to find a new place for our office and warehouse so we can continue supporting asylum seekers around the Netherlands. 🏢 At the same time, we were busy with a significant laptop donation project, and we can't wait to share more about it next month. 💻

The excitement doesn't stop there as we have some fantastic new projects coming up after the summer. Stay tuned for updates and join us on this incredible journey! 🌟
---